Quality Control and Testing of finished products
The Corporation, with a view to encourage SSI units to manufacture various items as per ISI standards, has established Testing Centres , one each at Industrial Estate Gangyal Jammu and Industrial Estate , Zainakote Srinagar. These Centres have been equipped with the requisite equipments essentially required for quality testing of the products presently being manufactured by the SSI units of the State. The Upgradalion of these centres is a continuous process and recently Testing Centre Gangyal has been modernized by installing latest equipments which among others includes Optical Emission Photospectrometer. Further all the ISI standards have been put on CD ROM in Standalone Mode and are benefiting vast majority of SSI units desirous of upgrading their product quality to the National Standards. Efforts are being made to modernize the Testing Centre Zainakote Srinagar keeping in view the type of industry that is coming up in Kashmir Division. The Corporation also envisages establishment of mini Testing Centres at Industrially potential District Headquarters in due course of time. The Testing Centres besides providing quality certification of products to the SSI units are also educating the entrepreneurs with regard to product specifications and quality improvements. The facility is also being used by DGS &D, CPWD, MES, Railways and BIS to test and counter check their products.Some of the machines used for testing are given as under:
Spectrophotometer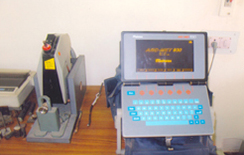 Tensile Testing Machine(Cap: 0-20 Ton)
Universal Testing Machine(Cap. 60 ton)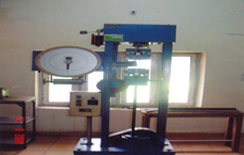 Tensile Testing Machine(Cap: 1 Ton)

Besides these facilities SICOP also provides a library to the clients from where they can gain some useful knowledge meant for testing.The books for testing and some other useful technical books are kept in the library.
Return to home