Procurement and sale of raw material for SSI units is another important activity being carried out by the Corporation. The procurement is done from agencies like Steel Authority of India Limited, Reliance India Ltd., Indian Oil Corporation Ltd., Coal India Ltd., etc. and sold through a net work of depots established in all the districts of the State. This mechanism ensures availability of materials to units in their respective districts and as per the quantities required by them.
Raw Material Depot, SICOP
Baribrahmna, Jammu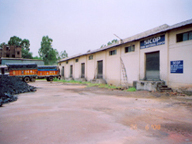 Raw Marerial Depot, SICOP
Gangyal, Jammu

Also the Corporation operates consignment-cum-handling Agencies of SAIL (for Kashmir and Leh) and IPCL / Reliance India Ltd. at Jammu which ensures adequate availablity of essential materials on competitive rates. The Corporation is also acting an distributors of Indian Oil Corporation in respect of Bitumen for the State of J&K.
The Corporation is operating a Raw Material Bank for Carpet/ Handicraft Industry in the State under a centrally sponsored scheme. The Corporation is procuring spun silk / cotton yarn / wool and pashmina yarn under this scheme.
Major Raw Material Depots
| | | |
| --- | --- | --- |
| Depot | Place | Phone No. |
| Raw Material Depot | Gangyal, Jammu | 0191-2480121 |
| Raw Material Depot | Digiana, Jammu | 0191-2431692 |
| Raw Material Depot | Bari Brahmana, Jammu | 01923-222663 |
| Raw Material Depot | Zainakote, Srinagar | 0194-2496246 |
| SAIL Yard Depot | Pampore, Srinagar | 01933-223041 |
Items being dealt are mentioned below:
Iron & Steel Materials
Structural Steel including rolled products
Plastic granules of assorted grades
Hard Coke and Steam Coal
Cement
Lubricating Powder
Bitumen
Any other raw material specifically indented by the SSI units.
Return to home