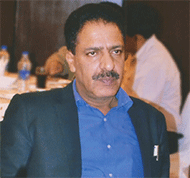 R.L. Tickoo,
Managing Director, SICOP
On the occasion of launching of the official website of SICOP, I would like to give the brief about its activities. J&K Small Scale Industries Development Corporation Limited (SICOP) was incorporated as Govt. Company in 1975. The main objective for which the Company was incorporated was to aid, counsel, assist, finance, protect and promote the interest of the small scale industries (SSI) in the Jammu & Kashmir State.
SICOP markets the identified products manufactured by the SSI units in the State to the Govt. Departments & its agencies. Marketing Cover is provided to the units located in the Districts also. SICOP is also operating main Raw Material Depots (RMD) in the major cities of Jammu & Srinagar. In addition Depots are also functioning in all the District Headquarters. SICOP is having fleet of its own trucks and cranes to handle the materials.
Development of Industrial Estates is one of the important promotional activities of the Corporation. The developed plots are offered to the SSI units on 90 years lease basis against premium and annual rentals as per govt. orders from time to time. Under centrally sponsored schemes, liD Centre is coming up at Kathua besides Silk Tech/Handicraft Park at Zakura Srinagar.
In addition, SICOP is also operating two Testing Centres, one each at Gangyal Jammu and Zainakote Srinagar. These centres are well equipped with testing machines to conduct quality evaluation tests of the products which most of the industries are manufacturing. Even some Govt. Departments, both in the Centre & State, are availing the facilities installed in the Testing Centres of SICOP.
Further the Policy Statement of the Govt. gives the following mandate to SICOP and the SSI units:
SICOP being treated at par with SSI units;
SICOP being accepted as accredited marketing channel for the SSI units.
Identified items manufactured in SSI sector have to be procured from SSI units by the Govt. Departments & its agencies of J&K Govt.
I am also pleased to inform the prospective entrepreneurs that SICOP has been recently empanelled as Udyami Mitra under the Rajiv Gandhi Udhami Mitra Yojna.
Return to home